Current Openings
When we hire for certain positions, we will announce job openings in this section, as well as on the Facebook page for each facility.  Jobs may be posted in appropriate and online resources in each location.
If there are no jobs listed, we are not currently hiring.
General Considerations for Employment
Certain positions such as Log Buyer, Mill Supervisor or Technical Supervisor will have specific experience requirements and those will be listed in the job recruitment.  However, for general mill positions while experience working in a saw mill, in logging or other forest products business is desirable, we train all of our employees.  We also like to work with individuals who have studied forestry in school.  However, all we look for is someone willing to learn and work hard and be part of our family.  Everyone has to be trained to work our equipment, so everyone has a chance at these jobs.
Benefits
Speyside Bourbon Cooperage Inc., offers a competitive compensation and benefits package to employees at each of our facilities. These include medical and dental insurance, Life Insurance, Short and Long Term Disability, Paid Vacation, 8 Holidays and a matching 401k. Some benefits are only available to full-time employees or after a designated waiting period.
EEOC Statement
Speyside Bourbon Cooperage, Inc. is an Equal Opportunity Employer. Speyside Bourbon Cooperage, Inc. does not discriminate on the basis of race, religion, color, sex, gender identity, sexual orientation, age, non-disqualifying.
Job Title: Stave Log Buyer
Job Location: This position will primarily supply logs to our Glade Springs, VA sawmill and will be responsible for a procurement area covering portions of South West North Carolina, Central to South East TN and portions of SC.
Job Description: The Log Buyer position is an integral part of the Speyside Management team. The Log Buyer reports directly to the Raw Materials Procurement Manager in the procurement of quality white oak logs to be used in the production of bourbon barrels. This position requires an individual to be able to work independently and in a team environment. The successful candidate must have a strong work ethic. Travel required.
Key Responsibilities:
The Log buyer is responsible for grading, purchasing, properly tagging, and arranging the hauling of white oak stave logs capable of being manufactured into bourbon barrel staves.
The Log Buyer will be responsible for meeting annual purchase goals to ensure that log inventory will be available based on the production needs of the mill. The Log Buyer is responsible for quality control, ensuring that Speyside buys the highest quality white oak for its manufacture of bourbon barrels.
The Log Buyer will manage all day-today administrative activities related to log purchasing and freight.
The Log Buyer will be responsible for developing positive, long-term personal relationships with sawmills, log yards and loggers within the procurement area.
The Log Buyer will be responsible for assuring that all safety procedures are met and maintained and must personally promote and encourage a safe working environment for themselves, their coworkers, suppliers, and contractors.
Qualifications:
Education: AA or BS in forestry preferred.
Experience: A minimum of 5 years' experience as a Log Buyer preferred.
Specialized Knowledge and Skills: The Log Buyer should have strong analytical skills, excellent interpersonal skills and both strong written and oral communication skills. The successful candidate must be proficient in inventory control software and handhelds, must have a working knowledge of Microsoft Word, Excel, and Outlook. The successful candidate must have the ability to manage bills, invoices and check writing responsibilities. The successful candidate must be capable of working overtime and traveling overnight if needed. The Log buyer must be able to prioritize and manage multiple tasks at once.
Hours: 40 to 50 hours per week depending on the season and occasional overtime as business dictates.
Salary: Negotiable and commensurate with experience, Speyside offers a full benefits package including health insurance and 401k plan. Company vehicle and cell phone provided.
Position Open Until Filled.
Start Date: Immediate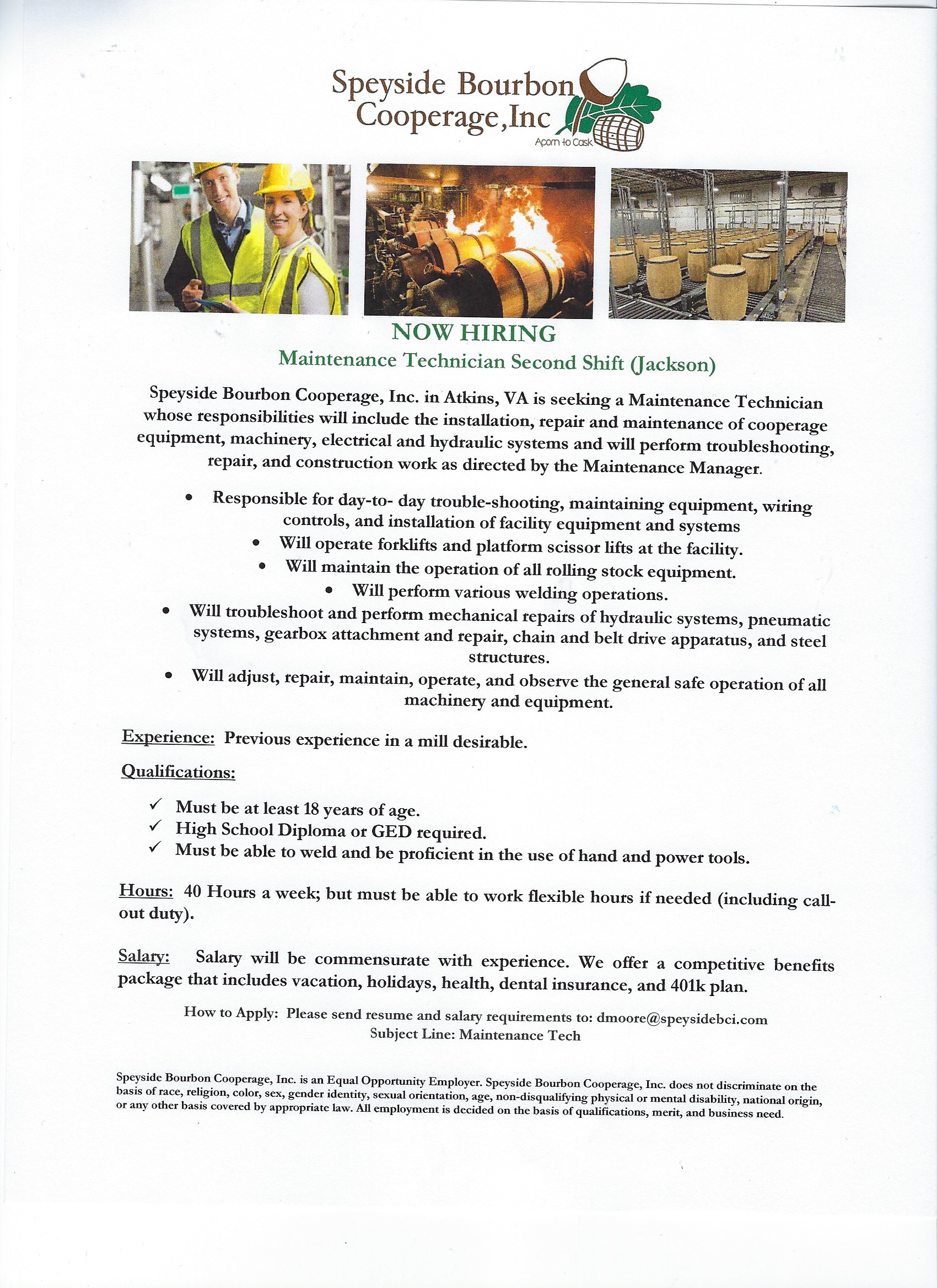 Speyside Bourbon Cooperage
(Jackson, OH)
P.O. Box 509
960 East Main Street
Jackson, Ohio 45640
740.688.2160
Toll Free:  855.276.2386
Speyside Bourbon Stave Mill
(Waverly, OH)
306 W. North Street
Waverly, Ohio 45690
Office: 740-648-3021
Speyside Bourbon Stave Mill
(Millboro, VA)
P.O. Box 284
466 Millboro Industrial Park Road
Millboro, VA 24460
540.712.0789
Speyside Bourbon Cooperage, Inc. (Atkins, VA)
6373 Lee Hwy
P.O. Box 699
Atkins, VA 24311
276.521.4120
Speyside Stave Mill (Glade Spring, VA)
13459 Owens Drive
P.O. Box 118
Glade Spring, VA 24340
276. 475.8889
Speyside Stave Mill (Manchester, KY)
1060A Clay Leslie Park Road
P.O. Box 609
Manchester, KY 40962
606.389.7010